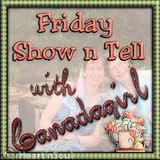 To see more Friday Show n Tell w/ Canadagirl click on the above picture.
Around 4 on Wednesday afternoon we got some SNOW! Here are the girls when it first started to come down.

Then 2 hours latter, Scotttlyn has her first SNOWBALL.
As you can see the ground is now covered.

Scottlyn's snow angel!

Shalyn's Snow angle!
We had a blast that evening. We had snowball fights with daddy and the dogs love it. Both girls made a snowman. There was a total of about 2 inches. Latter that night the snow turned to rain, by mourning it was one big wet mess. By 4 on Thursday afternoon it was all melted. However the weather station is saying we might get some more SNOW Saturday! What a blessing it would be if we could get some more snow again. It was so much fun just playing together! We created new memories as a family this week. Have a wonderful weekend.
Growing in HIM,
Trina