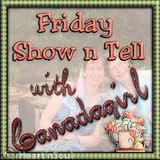 Here in Scottlyn's 4th cake. She used tip #2, # 21 & #104.
She will not do a cake next week due to her class service project.
Here is an updated picture of "little BUG", she will be four weeks old on saturday. She is learning how to stand. We have also started her on mush: water down puppy chow w/ goats milk.


If you would like to see more show& tell posts, please see Mary, our hostess.
In HIS Might Love,
Trina