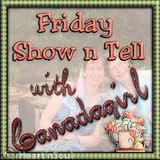 The Sunday evening before CHRISTmas my Uncle, Aunt, my cousin Sharon and her family came over. Here is some pictures of our evening.
My mama & Aunt Pasty.
My cousin Sharon & me. She is more like a BIG sister to me then a cousin.
All of our children: Scottlyn, Jessica, Kyle, Reece, Shalyn & Samantha.
Uncle Ron, Reece, Kyle, my dad & Rick
(my dear husband had to work this night and was greatly missed).

My Aunt Pat, Sharon, myself and my mama.
We all had a wonderful time. The kids baked cookies ( I will post these soon), we played cards and had a festive game of spoons. It was such a blessing . . . this is what family is all about.