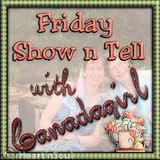 Here is Scottlyn's third cake.
She is learning how to make teddy bears.
The cake said: Me! I also think she likes using the star tip.
"Little Bug" will be two weeks old on Saturday. . . here she is sleeping on her back (just like her mama) in her box. She has not opened her eyes yet but she has almost doubled in size.
In HIS Mighty Love,
All your children shall be taught by the Lord, And great shall be the peace of your children. Isaiah 54:13