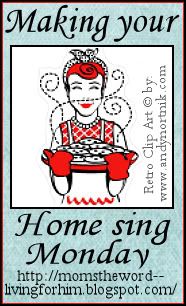 "Making Your Home Sing Monday." It's a day when we share what we are doing to bless our families in our home. If you would like to join in, click 
here
.
School was over at the end of April and now all the craziness that happens in our family the first few weeks of May has ended. FREEDOM!!
This week I am going to do some deep cleaning of our school room: end of year reports, reorganizing our books shelves and the closet. This is not what I really would like to spend my time doing; what I really want to do is go to the lake. But I know this must get done. Also I need to start doing lesson plans for July when we return back to a full day of school.
Also my daughter is in need of some much needed one on one time with mommy. I want to stop what I am going and hold her a little longer. Brush her hair and have some heart to heart talks with her. I am so blessed to be a mommy and so very blessed to be her mommy. A moment is a gift . . .