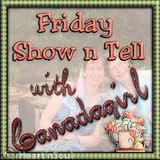 click on the above picture to see more Show n Tell with Mary.
Here our some more picture of the Sunday before
CHRISTmas
with my mom's sister and my cousin's family. They kids are baking cookies! It was the highlight of the night!
Samantha and Jessica are the Head Chefs at this cookie marathon. They are the ones who rolled the cookie dough out and the kids used cookies cutters to cut it into their favorite shape.
(BTW . . CHRISTmas is the only time I use white flower, I have never found a Awesome cookie recipe with whole wheat flower)

Jessica in the middle of the mess and looking so VOUGE!

Samantha with Kyle, Shalyn & Scottlyn as the madness begins of icing the cookies. Scottlyn went around and took every one's order. Then they all made everyone the cookie they wanted and then some more. It was so much fun! Families are truly a blessing!