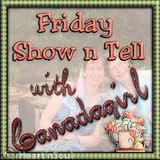 Please let me just say how WONDERFUL my husband is! He is a very resourceful man that uses his God given talents in all that he dose. Here are the before pictures of the kitchen:

Drum roll . . . . . now the after pictures:

Besides the back splash, he painted the walls a taupe (the rest of our home is this color) and he is in the middle of painting the cabinets with a fresh coat of paint. The kitchen looks AWESOME! Way to go Mr. Wonderful, your the BEST!