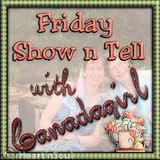 Above on the next post you will see

Scottlyn's

Chinese Brush Painting. She is taking this class at Timothy Ministry on Tuesday's. Her first picture is on display right now at First Baptist Church of Woodstock with several other students. She did a wonderful job and we are all very proud of her. She still has 9 more weeks for this class. I will post more pictures when she brings them home.
As always thank you so much for taking the time to view her art work.
She loves reading all you blessings that you send her.