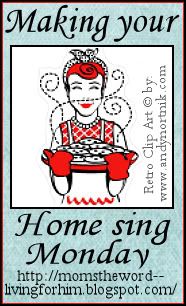 Welcome to my first ever 
"Making Your Home Sing Monday"
  post. 
A NEW dear friend of mine over at:
has turn me on to this
mems
. I so enjoyed reading her blog . . . she is a great encourager.
Have you ever had a time in your life where you heard God tell you the direction you should take but because of the control you like to have you choose not to obey? Well a little over a mouth ago I was at that cross road and this time I choose to obey God!!!
I am in a season where my family needs me 100% all the time. My oldest daughter is at the age where everything and everyone makes a lasting impression on her. I would love her to keep the rose color glasses on as long as she can.  Spending more time playing dress up, having tea parties and being the sweet little girl she has always been.  I would like to have more one on one time with her. Her sister is 2 1/2 years younger and in need of much of the same. I would like to start having personal bible studies with each of them weekly and continue our daily bible studies together. My husband has watch me face CANCER back in December and is in need of having more one on one time. I am in need of everything above . . . and more! :)
So this coming school year we will not be at Timothy Ministry. We have loved the last 7 years with them and have been blessed by so many different classes. I look at next year as a year to take more family trips and work more on our home skills (cooking, cleaning, sewing). 
I
received
PEACE as soon as I gave up my
control
. A NEW excitement as
come over
me as I start to plan for the 09/10 school year. 
Thanks for
taking the time to visit me and letting me ramble on.